Diabetes Self-Management App Project: For People with Intellectual and Developmental Disabilities (I/DD) who have Type 2 Diabetes
Type 2 diabetes has been, and continues to be, a national epidemic. According to the 2020 Diabetes Statistics Report from the CDC, approximately 34.3 million people (or 10.5% of the US population) have diabetes. (This has increased from 2007's statistics of 23.6 million people or 7.8% of the U.S. population). People with disabilities are three times more likely to develop diabetes. Looking closer to home, according to Oregon's 2018 BRFSS, 18.7% of adults with disabilities have diabetes compared to 6.8% of adults without disabilities. The good news is that the chronic disease is preventable by improving access to health promotion programs and healthcare, as well as making healthy lifestyle changes.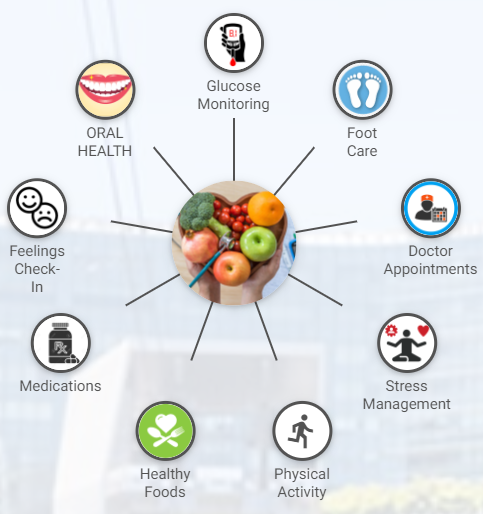 Cognitopia and OODH are offering an exciting opportunity for up to ten developmental disability residential service providers to implement a diabetes self-management app with the people they serve who have Type 2 Diabetes. Qualifying provider agencies must have between one and five customers (app Users) who are committed to participating in the program. Participants with I/DD and their supporting staff person can each earn up to $75 for their participation.
The duration of the trial program is 9-months and is designed to help 1) people with I/DD better manage their type 2 diabetes, and 2) agency staff provide a simple and comprehensive way to support and monitor their customers' diabetes self-care.
Interested parties must submit an application by 5pm, August 28, 2020 using this link. The project will run from September 2020 – May 2021. For more information on the project click here, and to view the project's timeline click here
In addition – Club Wellness!
We may also be able to offer a complimentary program called Club Wellness.  If funding permits, we will offer one awardee of the Diabetes Self-Management App Project a free Club Wellness License (no expiration), which includes a Train-the-Trainer training (for up to 10 program staff) and program implementation (one-time only).  For more information about the project click here.     
If you have any questions please contact Angela Weaver at: weaverro@ohsu.edu or by phone at 503-494-1205.
Julie Henning has been with Cognitopia since 2015. In that time, she has been involved in customer support, training, marketing, documentation, social media, and data collection. Some of her favorite projects have been mentoring our videographer intern, Nate, and weekly classroom testing and curriculum development for the many students in the 4J Connections Transition program. She works closely with Eugene-based SLLEA (Smart Living, Learning & Earning with Autism) to integrate Cognitopia's self-management tools into the organization and structure design input and support platform implementation. Professionally, Julie has over twenty years' experience working in engineering, technology, software development, and journalism; a path made possible with two degrees in Technical Communication: a BS from the Milwaukee School of Engineering and a MS from Colorado State University. A single mom of three high schoolers (grades 9, 10, and 11), Julie has introduced Cognitopia to terms such as "sick" and "yeet," while overseeing the office coffee consumption. In her free time, she enjoys playing recreational soccer, improv comedy, and traveling.