Five Tips for Creating an Effective Routine
Within the Cognitopia Platform for Self-Determination a routine is a sequence of steps consisting of actions that lead to the accomplishment of work assignments, activities of daily living, social skills, recreational activities, or any other self-management task. In practice, the concept of a routine may be referred to as a step-by-step procedure, schedule, task list, plan, or even a goal. Regardless of the terminology, the essential principle is that any routine can be broken down into individual steps to facilitate learning. Educationally, teaching routines or breaking down activities into steps is often referred to as task analysis and is a key component of systematic instruction. 
Task analysis is the process of identifying each discrete action within a given routine or activity. Each step or action within the routine can be displayed visually to best support the user's preferences or learning style. This might be a combination of a text label, a picture, or a short video. With the Cognitopia Routines tool, individuals with disabilities and their support teams can create, organize and share a library of routines that can be accessed with a few clicks. 
The fact that routines can be shared is powerful. It means that once a routine is created, teachers, direct support professionals, employers, and job coaches can easily give any routine to one or many of the individuals they support. Routines that have been shared, even those routines available in the Community library, can be later customized and edited to meet the needs of the individual the routine is intended for.
A user's personal library might include routines with video-modeled steps showing how to do work tasks, manage personal hygiene, self-regulate classroom behavior, or navigate the community. 
No matter what the routine is, however, we've found the following five steps should be considered in order to make them as useful as possible for individuals you support and more broadly to other users should you choose to share your routines with the larger Cognitopia community.
Limit the Number of Steps 
While there are no set rules on the ideal number of steps in a routine, it is important to consider the number of steps of a given task or activity for a given learner. An overly long sequence of steps can be hard to follow and leave the learner disoriented in the middle of the sequence. If printed out, an overly long routine will take multiple pages and could be confusing and unwieldy. 
Consider breaking a particularly long routine into a sequence of shorter routines: Part 1, Part 2, and Part 3, for instance, or extracting a topic from the routine and making a new routine altogether. For example, for grocery shopping, you could create routines for making a shopping list, navigating the grocery store, and purchasing the items using a debit card. 
Sometimes a sequence of steps (actions) can be consolidated into a task the viewer has already mastered. For an individual who already knows how to wash their hands, instructions on using soap and turning on a faucet may overly complicate a routine. The user may benefit instead from a step that instructs them simply to wash their hands, illustrated with a photo of soapy hands under a running faucet. 
Make Each Step a Unique Action
When breaking down a routine into smaller tasks, each step should be a unique, independent, action that can be marked complete with a check mark. This exercise supports the concept of step-by-step task analysis, as well as providing an easy way to convert selected routines to actionable and measurable goals, using the Goal Guide tool.
For an everyday routine such as washing clothes, for example, breaking apart the step "select the water temperature and load size" into "select the water temperature" and "select the load size" creates unique actions that can easily be matched with photos from the different areas of the instrument panel on the washing machine.
Use Clear and Consistent Language
For individuals with a wide range of literacy and language skills, simple is better. Avoid run-on sentences and writing in first-person. Often there are opportunities to simplify the written steps of a routine. Consider directions for microwavable meals, where there is often complicated or confusing language in the cooking instructions. Here are some typical examples with some suggested simplified replacements.
Example                Simplified
rearrange              move         
package                box 
entree                   tray 
carton                   box 
puncture               poke 
Words that might require more explicit information or alternative phrasing: 
Example               Alternative Phrasing
perforations          tiny holes 
pierce                   poke through 
meal                     meal tray 
film                       thin plastic film cover 
let stand               let the food cool 
vent                      let the steam out
Know When to Use Videos
When trying to develop a video model for a generalized audience, it is difficult to determine how much or how little of a task sequence to demonstrate. Consider cleaning walls in an office. Do you video model the entire process of wiping down the walls? Or do you use a picture to represent that step of the task? Ultimately this will depend on the unique learning style and cognitive processing of the individual the video is intended for. If you provide a video, also include an image that best matches the written direction of the step.

Important note: If using personal images or video self-modeling, where the video or image shows the user performing a task step, you should not share that routine with the larger Cognitopia community unless the user is fully capable of making the decision to allow their image to be shared in that way.
Avoid Visual Distractions
When taking pictures or videos, try to minimize distractions. For example, when modeling a routine on dressing, a photo of a solid color shirt is less distracting than one with words or busy patterns. Videos can be cropped or edited to focus on the critical component of the step. When making a recipe, for example, make separate videos for measuring, prepping, or combining ingredients so the user is directed to the task at hand.
Model Routine Example
In our model routine for popping popcorn, we have considered all five tips listed above. By limiting the routine to six steps, it easily prints on one sheet of paper. We've avoided distractions in the pictures such as a cluttered table or another person in the background. Each step lists one actionable item and uses simple language. The more complicated step for stopping the microwave when the rate of popping slows to two seconds between pops was accompanied by a video example. We also added a thirty-second countdown video timer to help the user wait thirty seconds before taking the hot bag of popcorn out of the microwave. Worth noting is that if someone was using a microwave for the first time, the individual steps for operating the control panel would need to be in a separate routine called "using the microwave."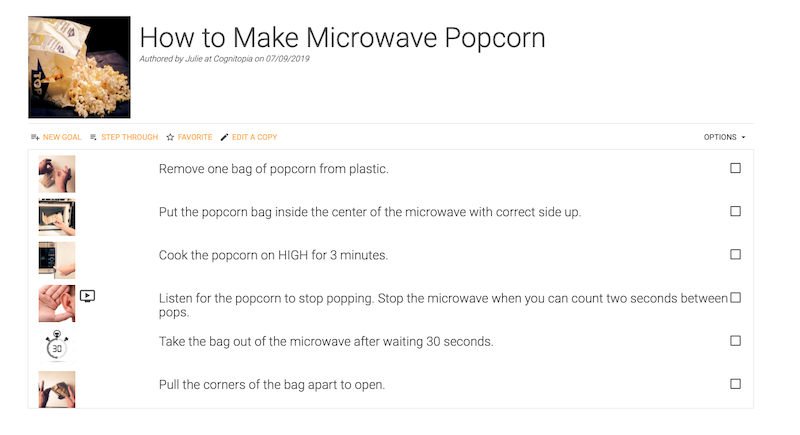 Sharing Routines
The Options menu in the Routines tool allows you to share routines in several ways.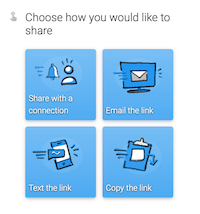 With full sharing set to "off," you can only share with your Cognitopia connections.

With full sharing set to "on," you may also share routines via email, text, or by copying the link and posting it wherever you like. 

"Share with Cognitopia" (not shown above) lets you submit your routine for viewing and adoption by other members of the Cognitopia community to whom you are not connected. When you select this option, the routine goes to a holding area where we'll read through the text, review the photos, and watch the videos to make sure there's not any: 
Harassment or spam

Profanity, slang, or slander

Inappropriate or concerning content
If your routine uses photos with people in them, as noted above, please double-check you have permission to use them. Please submit only content you have written (no copyrighted material). 
When your routine is approved, we will send you an email to let you know. We may even feature your routine on Cognitopia.com or one of our social media accounts. 
Tobias Rickard has been an Autism Consultant for the Eugene 4J School District in Eugene Oregon since 2005. Prior to consulting, Toby was a Special Education teacher and received his Masters in Special Education from the University of Oregon, with an emphasis on positive behavior support. Before teaching, Toby was an Employment Specialist in Boulder, Colorado supporting individuals with autism and other exceptionalities with their vocational pursuits. Toby has previously been active in Oregon Council for Exceptional Children, holding various leadership positions within the state unit. Toby is an active member of his disability community as a long-term board member of the local non-profit Supporting Access to Independent Living and as an advisory board member of KindTree Autism Rocks, both located in Eugene. Toby's areas of interest are in student advocacy, transition, and accessibility. Particularly, the development of student-centered technologies and universal design for learning.