Podcasting: It Can Provide Opportunities for People with Autism
Leveraging special interests is a great way to engage people with autism in the world around them. Getting someone on the spectrum to talk about their area of special interest is not difficult. Rather, the challenge lies in getting them to shift to other topics or to show interest in those around them.
One way to celebrate and showcase an individual's passion while subtly working on developing aspects of communication is through podcasting.

Podcasting is a strength-based approach to career discovery, providing an outlet for someone to continue pursuing their dreams while showcasing their expertise in a particular field. This is a marketable skill that offers a unique pathway to customized employment.
Podcasting can also be a project-based learning experience, where young people can begin to discover the skills required to produce and author a narrative around their special interest. There are technical aspects that need to be employed as well.
In terms of communication skills, social reciprocity is not an easy skill to teach and develop. In a podcast format, there are opportunities for give-and-take, depending on how the discussion is framed.
Guiding the conversation from a fixed idea about the topic of interest toward a dynamic interaction can lead to opportunities to reinforce reciprocal communication skills. For instance, helping the individual understand what someone might find interesting about the topic or having a shared discovery of what is unique or downright fascinating.
Take Ryan, who has long been intrigued by digital sound recordings and how movies are made. Like many people on the spectrum, Ryan has a fascinating perspective and a deep knowledge of the inner workings of the entertainment industry. Many individuals with exceptionalities, including autism, are motivated by careers in movies, animation, acting, and singing.
Ryan's special interest is movie-making magic and how the sounds of the most iconic movies were discovered, created, and engineered. His deep understanding of how sound artists create audio effects like Mickey Mouse's car backfiring or a raptors' shrieking call can be incredibly engaging to the listener.
However, as with many older students transitioning into adulthood, Ryan has had a difficult time finding inroads into his ideal career field. Entry-level jobs in sound recording are few and far between and often geographically limited, while the movie industry as a whole may not be quite as glamorous as it might appear in one's mind.
Using the built-in audio recording tools in his MyLife ePortfolio, Ryan has been uploading podcast episodes related to the entertainment industry. In a recent post, Ryan discussed the sound design used in Jurassic Park and Gary Rydstrom, the movie's award-winning sound designer.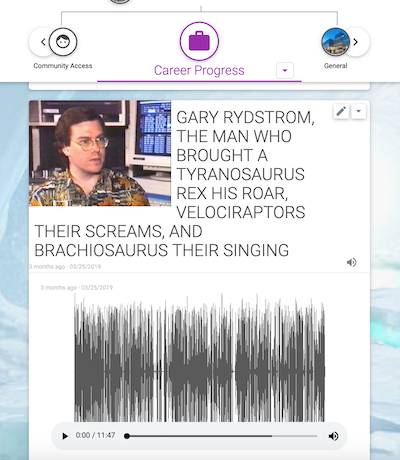 This video shows a segment of our interview, where Ryan is describing how recordings of a walrus's low guttural roar were mixed with the high-pitched scream of a teenage male dolphin to create the sound of the velociraptor dinosaur.  
To listen to the full twelve-minute podcast episode, click this link to Ryan's MyLife account, where he uploaded a photo of Gary Rydstrom and published the audio file using the built-in audio recording tools. Ryan's guest for the episode is Toby, his friend and former autism consultant with the local school district.
"I had a lot of fun educating Toby on how the iconic dinosaur sounds of Jurassic Park were made and I'm sure he had a lot of fun too. We've made plenty of podcast episodes in the past and I hope to make more with him in the future," Ryan explained. "Doing these podcasts have allowed me to give out original thoughts of mine and helped me understand how to give people credit for the work they've done."
"For someone like Ryan who has a photographic memory for what he's heard, read, and watched, podcasting has provided him with a way to share with others his own unique perspective on what he's learned," Toby added. 
Keeping individuals engaged with their communities and providing opportunities to share their hopes, dreams, and talents—this is why the integration of an easy-to-use tool for uploading digital recordings to the MyLife ePortfolio augments a powerful tool for self-directed transitioning. Not to mention it's just fun to do.
Tobias Rickard has been an Autism Consultant for the Eugene 4J School District in Eugene Oregon since 2005. Prior to consulting, Toby was a Special Education teacher and received his Masters in Special Education from the University of Oregon, with an emphasis on positive behavior support. Before teaching, Toby was an Employment Specialist in Boulder, Colorado supporting individuals with autism and other exceptionalities with their vocational pursuits. Toby has previously been active in Oregon Council for Exceptional Children, holding various leadership positions within the state unit. Toby is an active member of his disability community as a long-term board member of the local non-profit Supporting Access to Independent Living and as an advisory board member of KindTree Autism Rocks, both located in Eugene. Toby's areas of interest are in student advocacy, transition, and accessibility. Particularly, the development of student-centered technologies and universal design for learning.