Healthy Cooking Becomes Routine for Residents of Independent Living Program
Surprising Gifts of a Better Meal
Living in affordable housing units at Willakenzie Crossing, residents of SAIL Housing in Eugene, Oregon call over a dozen one-bedroom and studio apartments home-sweet-home. A 501(c)(3) nonprofit organization, SAIL stands for "Supported Access to Independent Living" and operates with a mission of supporting sustainable housing in a life-enriching environment that fosters dignity and independence for adults with developmental disabilities.
As part of the program, residents gather weekly in the community room to socialize and learn new skills. When talking about cooking and eating habits in a group discussion last year, residents collectively admitted they struggled with finding healthy meal options and knowing how to follow a recipe.
To address this issue, SAIL Housing applied for and received a $1,000 grant from the University Centers for Excellence in Developmental Disabilities (UCEDD) at the Oregon Health & Sciences University to develop a ten-week healthy cooking group class. SAIL also partnered with an executive chef from the Eugene-Springfield Holiday Inn who generously donated her time to help develop a healthy, nutritious menu, which the group used as the basis for creating multimedia recipes with the Cognitopia Routines application.
Teaching a different recipe each week, SAIL Resident Liaison, Brook Manion, and community volunteers used the apartment complex's community kitchen to make the experience an interactive one. Residents assisted in prepping, chopping, and measuring ingredients; learned about safe food handling; discussed caloric intake and portion size; and presented options for adjusting the recipe to accommodate factors like lowering sodium or eliminating gluten.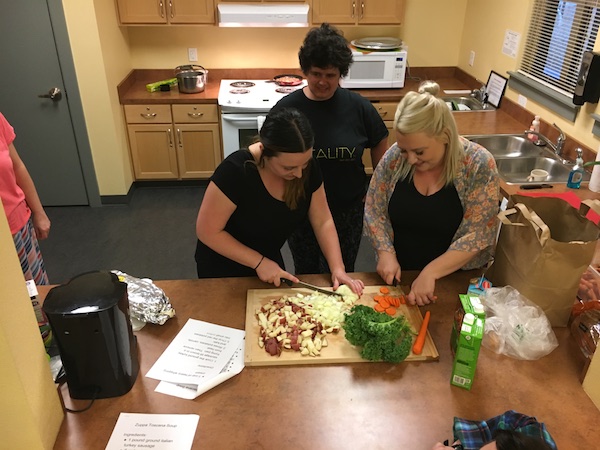 During the instruction, volunteers captured photos and videos of the entire process, documenting individual skills like browning meat, mincing garlic, or preheating the oven. These visual reminders were later uploaded with the individual recipe steps into the Routines app in Cognitopia as a task-analyzed, media-rich reminder of how to make the recipe in their own apartments.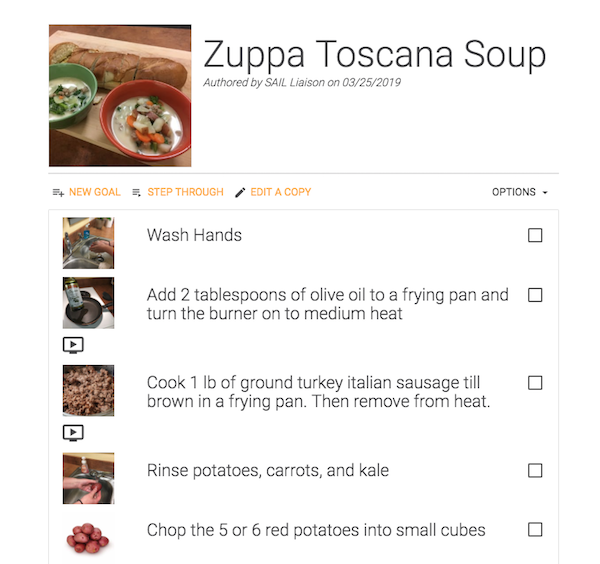 All Cognitopia Routines are automatically given a unique QR code that can be printed out and then scanned for easy, direct access to content. Each SAIL resident was given a printed QR code with the name of the recipe and a photo of the meal. When scanned in their own kitchens, the recipe appears step-by-step on a tablet or smartphone with images, video, and text-based instructions available for each step as needed. For residents with food allergies, aversions, or unique nutritional needs, Cognitopia makes it easy to modify a routine to meet individual needs.


Once ready, the participants sat and enjoyed the meal together, a highlight of the experience that had a ripple effect on their sense of community connection and will hopefully lead to long-term positive change in social skills and healthy eating.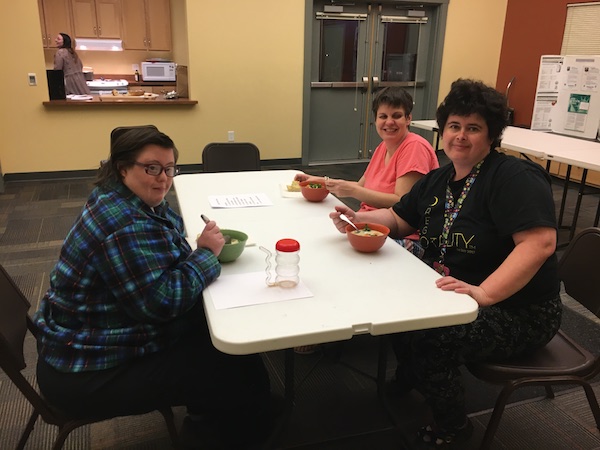 "We received lots of anecdotal feedback from the residents who told us that they were making the recipes at home after the class and the class was encouraging them to try new foods that they normally would not try. Because recipes and guidance were provided they said they were encouraged to try new things," Brook explained.
She added, "Another positive outcome of this class was the social bonding that came over gathering together to share a cooked meal. Many of the participants reported that their family has passed away or live far away. Often times before the cooking class, participants said they ate dinner in front of the TV alone. This was a wonderful opportunity for the participants to get to know other people and partake in a family-style dinner. During the class, participants shared that they really enjoyed cooking with friends in the class and eating together. A few of the participants began to cook together in their homes."
"I need to eat healthier, so I really liked learning how to make healthy meals," explained SAIL Housing resident Dana Copeland. "It's hard for me to see small writing, so the video and picture recipe in Cognitopia will make things much easier." Resident Jessica Smith added, "I liked getting together with people and trying new foods."
With over half the SAIL Housing residents participating, the cooking class had one of the highest activity turnouts in years. And while OHSU grant money has been exhausted between purchasing ingredients and paying salaries, SAIL Housing has been attempting to continue the program twice per month.
If you are interested in making a charitable donation to support SAIL Housing website donation page.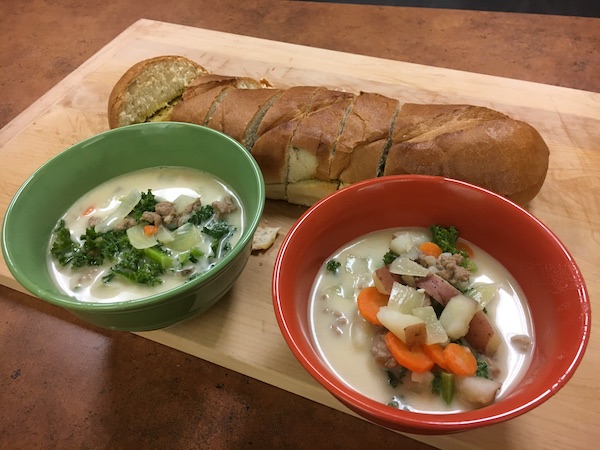 Julie Henning has been with Cognitopia since 2015. In that time, she has been involved in customer support, training, marketing, documentation, social media, and data collection. Some of her favorite projects have been mentoring our videographer intern, Nate, and weekly classroom testing and curriculum development for the many students in the 4J Connections Transition program. She works closely with Eugene-based SLLEA (Smart Living, Learning & Earning with Autism) to integrate Cognitopia's self-management tools into the organization and structure design input and support platform implementation. Professionally, Julie has over twenty years' experience working in engineering, technology, software development, and journalism; a path made possible with two degrees in Technical Communication: a BS from the Milwaukee School of Engineering and a MS from Colorado State University. A single mom of three high schoolers (grades 9, 10, and 11), Julie has introduced Cognitopia to terms such as "sick" and "yeet," while overseeing the office coffee consumption. In her free time, she enjoys playing recreational soccer, improv comedy, and traveling.