Innovative Self-Management Apps for Aging in Place
More and more, technology enables our lives in ways that facilitate independence and connectivity and it seems like there's an app for just about everything. For individuals aging in place, apps can help them stay organized, accomplish daily goals, or remotely link them to their adult children, a team of caregivers, or the support services they need in order to continue to live in their homes and thrive within their communities.
Our focus at Cognitopia to date has been on web-based self-management applications to support individuals with cognitive disabilities to be more independent and self-determined in daily life while providing caregivers with tools to make their support responsibilities easier and less stressful. We believe this mission and the tools we're creating may be relevant to the needs of the elder adult population as well.
Consider the routine activities of daily living, like personal health, taking medication, and prescribed physical therapy exercises.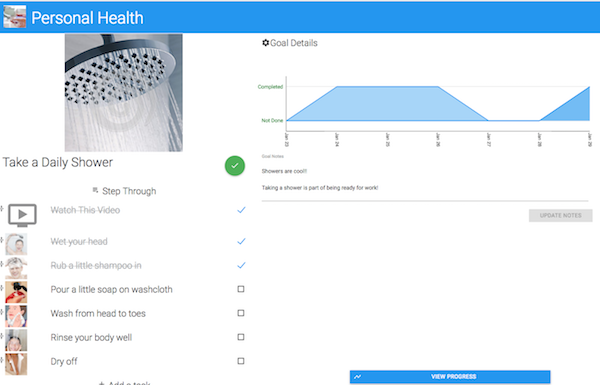 When configured within the Goal Guide app, daily self-care routines come alive with images, videos, and progress tracking that helps the end user know what needs to be done, when it needs to be done, and how to do it. An activity like taking a shower can be broken into a step-by-step series of tasks required to effectively clean the body, with images and video added for reference. Reminders can be sent by email, app push, or text message and, when completed, a progress chart appears. This means that anyone connected to that person in a caregiving capacity can remotely monitor goal and task completion, providing help when it's needed and supporting independent performance when help is not required.
As a companion app for Goal Guide, Do draws on a user's goals to create a schedule highlighting what activity the user should be working on at a given moment and what's up next in any given day's routine. Do essentially shows you what needs to be done right now, how much time there is to do it, and the steps required for completion.
The Routines app allows users to create their own library of task instructions using text, images, and video, and also makes it possible to adopt routines created by other users in the Cognitopia community. Routines can be accessed with a computer, tablet or smart phone, and can also be printed out as hard copies and used around the home.
Traditionally used to track a student's Individualized Education Plan (IEP) within an educational setting, the MyLife app offers elders a "blog-like" platform for sharing news, life events, uploading photos, reminiscing and chronicling thoughts and conversations. Automatically shared to the user's established relationships, they may also copy and send a link by email or text message (or to social media platforms like Facebook).  Like other Cognitopia applications, MyLife encourages family connections and sharing.
Last, but not least, the ScanDo app is a simple tool for video modeling and task completion. With ScanDo, users can create a library of videos and other documents that illustrate how to accomplish different tasks around the home or in the community. Each item in their personal library is assigned a unique QR code that when scanned with a smart device displays the associated content. QR codes can be printed out and placed in the environment wherever task completion support is needed.
We invite you to visit with us at our AiA 2018 Roundtable on March 29 in San Francisco for an informal demonstration and discussion to learn more about the Cognitopia Self-Management Platform and help us to better understand how we can accommodate the needs of elder users aging in place. Or if you won't be at AiA, we encourage you to create a free trial account at www.cognitopia.com and let us know what you think.
Feature photo credit: https://www.flickr.com/photos/garryknight/5836253352/sizes/z/
Tom Keating, Ph.D. is founder and CEO of Cognitopia, home of the Cognitopia Platform for Self-Determination, emphasizing tools for IEP self-direction, goal management, task analysis, and team coordination. Keating has been focused for the past 20 years on research and development of self-management and community living applications for individuals with cognitive disabilities and has been principal investigator on over 20 federally-funded technology development projects. He is also a Courtesy Research Associate in the Computer and Information Sciences Department of the University of Oregon. Keating's perspective in all of his work has been strongly influenced by his experience of 31 years as a primary supporter for a brother who experienced autism.