How Cognitive Support Technology Is Empowering One Man with Autism
Raising three boys in rural Oregon in the late 1980s and 1990s, Trina began to first notice unique developmental behavior in her three-year-old son Clinton as he was just learning to read. "Clinton had learned all of the sounds, but phonetically he couldn't put them together. Even today, Clinton is more typical in that he can read the dictionary and learn the definitions of words or small things, but he cannot read a novel."
A combination of cognitive and medical evaluations eventually resulted in an autism diagnosis, something experienced by four in ten thousand families in 1988. "It was a totally different atmosphere back then," Trina explained. "When Clinton was ready to go to school, mainstreaming wasn't an option."
One of the earliest users of Cognitopia's Picture Planner app, behavior prompting and visual reminders have played an instrumental role in Clinton's life over the last three decades. "Pictures play such a huge piece in Clinton's life," Trina continued. "You can't show him how to do something simply by saying 'watch me.' It doesn't make sense to him, so it's nice to see he isn't pressured when he can look at a picture as a reference."
Throughout Clinton's childhood and into adulthood, the evolution of digital technology has enabled Clinton to become more independent from his family—and it has also transformed Trina's role as his mother and primary caregiver. "Now, everyone is driven by their mobile phones and the role of technology has somewhat replaced how we receive feedback. Particularly for the population of students with cognitive disabilities, technology has given them the ability to be dependent but remain connected with each other as well as their caregivers," she added.
While Trina notes each person's capabilities and situations are different, she credits the Goal Guide app with helping Clinton to self-regulate his daily behavior while remaining calm in what otherwise seem to him like chaotic environments.

While Clinton uses his own phone and Cognitopia account, Trina has "viewer" status that gives her a window into his daily progress on goals and routines he has set up with his personal support agent. "Structure in daily living is important for everyone, but it's especially important for an autistic person. We don't want them to be regimented but sometimes to help break that chaos that's going on. I like having the ability to track and monitor Clinton, but I think the Cognitopia apps have huge potential to help other people like my son."
Most recently, Clinton is using the Routines app as an aid for his lawn care job using a weed whacker. "We want to make self-help videos and steps so Clinton can remember how to complete the job and sub tasks like threading the wire on the head of the weed whacker," Trina explained. "But with the Cognitopia apps he can look at pictures and videos of the equipment, the safety gear, and of him actually doing the work, so it helps him to be more self-aware and able to work more independently without the help of me and his father. And, at the same time, I can monitor my phone and Clinton's progress on my Cognitopia account to make sure he's working through the steps."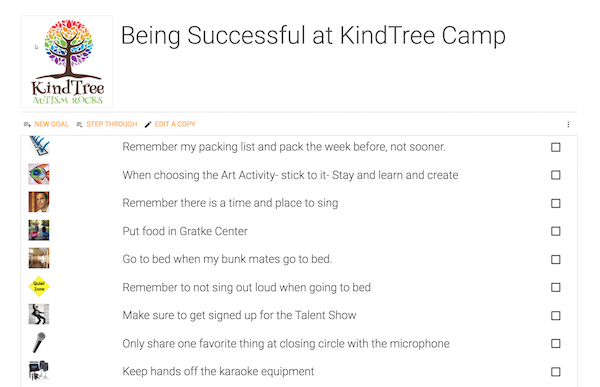 For the past two months, Clinton has also been using text-based picture reminders (MMS) as a way to self-regulate his behavior at home and at the Kind Tree—Autism Rocks overnight camp in the heart of the Oregon forest. "Clinton told me having text prompts at camp really helped him to accomplish his goal of not needing to be asked to take his ear buds out in public," Trina added. He now has thirty straight days of successful data.
As Trina prepares for retirement with her husband, the couple has plans to spend half the year in a warmer climate. "Technology is making everyone more independent, and maybe sometime down the road Clinton can live more independently, both safer and farther from his support network," she added.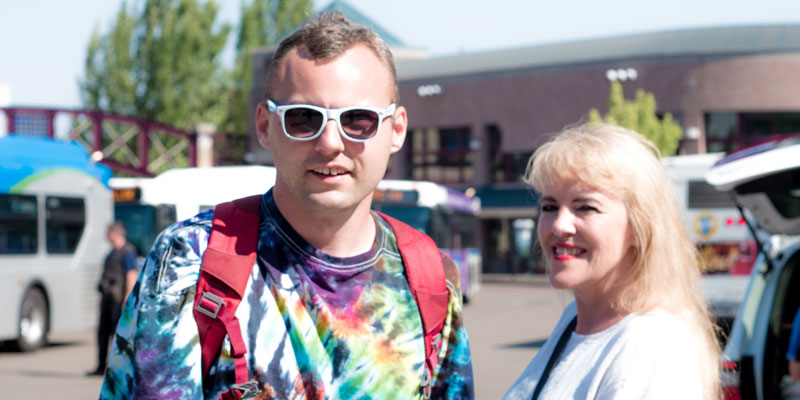 Julie Henning has been with Cognitopia since 2015. In that time, she has been involved in customer support, training, marketing, documentation, social media, and data collection. Some of her favorite projects have been mentoring our videographer intern, Nate, and weekly classroom testing and curriculum development for the many students in the 4J Connections Transition program. She works closely with Eugene-based SLLEA (Smart Living, Learning & Earning with Autism) to integrate Cognitopia's self-management tools into the organization and structure design input and support platform implementation. Professionally, Julie has over twenty years' experience working in engineering, technology, software development, and journalism; a path made possible with two degrees in Technical Communication: a BS from the Milwaukee School of Engineering and a MS from Colorado State University. A single mom of three high schoolers (grades 9, 10, and 11), Julie has introduced Cognitopia to terms such as "sick" and "yeet," while overseeing the office coffee consumption. In her free time, she enjoys playing recreational soccer, improv comedy, and traveling.