Using Goal Guide as a Therapeutic Support to Facilitate Patient Engagement Between Clinical Sessions
At Cognitopia, our goal is to develop a suite of essential web-based applications for students and adults with cognitive disabilities such as autism, intellectual disabilities, TBI, or learning disabilities, and for older individuals with cognitive decline due to normal aging, dementia, or stroke.
Our overall emphasis is on self-management applications that help people navigate daily life, school, or work as independently as possible while facilitating the efforts of teachers, parents, therapists, and others in support or caregiving roles.
While exhibiting at the ASHA Annual Conference in Philadelphia last fall, we spoke with a number of SLPs who saw a practical value for Goal Guide in its ability to actively support patients between therapy sessions. Goal Guide addresses several barriers to therapeutic compliance in that it supports task analysis, offers video modeling, provides an array of reminders, and allows data sharing between patient and therapist.
Consider a prescribed therapy regimen where for example the overarching goal is performance of daily tongue exercises. A customized list of exercises can be created and tailored for each patient, with images illustrating each step.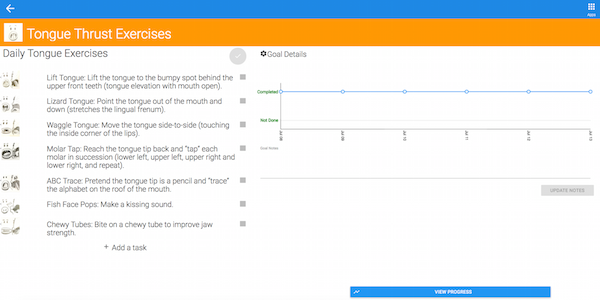 Any step can be augmented with video clips showing how to do the exercises, with additional text descriptions or general notes to support consistent compliance with the exercise schedule. Therapists can set an optimal schedule for performance and patients can receive reminders.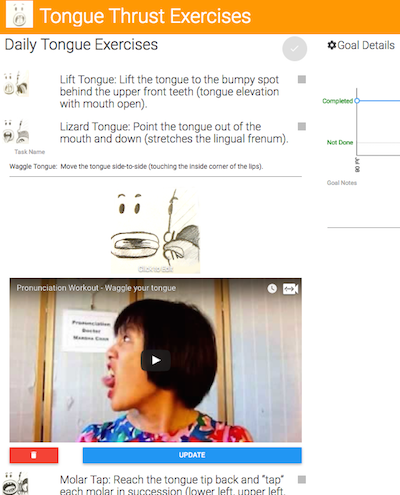 When patients check off their exercises as complete, their goal chart is instantly updated, and if they've elected to share progress, the therapist can receive performance summaries that enhance patient accountability and provide information as to steps where there may be some difficulty experienced by the patient.
In establishing this kind of support relationship within Goal Guide, goal progress over time can be monitored between office visits, used as a basis for discussion during clinical sessions, and can ultimately be linked to therapeutic progress as a predictor of success.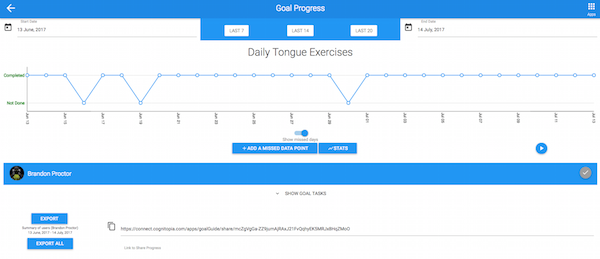 In essence Goal Guide helps ensure that patients know what they are supposed to do, when to do it, and how to do it, and they can get reminders via email, text, and in-app notifications at key times, increasing the likelihood they will adhere consistently to the desired performance schedule.
Julie Henning has been with Cognitopia since 2015. In that time, she has been involved in customer support, training, marketing, documentation, social media, and data collection. Some of her favorite projects have been mentoring our videographer intern, Nate, and weekly classroom testing and curriculum development for the many students in the 4J Connections Transition program. She works closely with Eugene-based SLLEA (Smart Living, Learning & Earning with Autism) to integrate Cognitopia's self-management tools into the organization and structure design input and support platform implementation. Professionally, Julie has over twenty years' experience working in engineering, technology, software development, and journalism; a path made possible with two degrees in Technical Communication: a BS from the Milwaukee School of Engineering and a MS from Colorado State University. A single mom of three high schoolers (grades 9, 10, and 11), Julie has introduced Cognitopia to terms such as "sick" and "yeet," while overseeing the office coffee consumption. In her free time, she enjoys playing recreational soccer, improv comedy, and traveling.