My Life App Helps Transition Teacher Easily Get to Know and Support Students
When Morgan Flynn accepted a position as a long-term substitute teacher with Connections, a secondary transition program in Eugene, Oregon, he used the My Life e-portfolio app as a way to rapidly learn the strengths, accommodations, and interests of his students before his first day on the job.
"I made a profile for myself and, while I knew I would be mostly working with one person, I loved the idea that I could use My Life as a resource to learn about the entire classroom," he explained. "The students had been updating their My Life accounts with their IEP goals on a weekly basis and over time I saw how being able to construct their own narrative was definitely empowering to them as individuals."
Morgan continued, "When you're working with student populations with individuals along the autism spectrum, there's a lot of stuff you need to learn, like triggers and accommodations. The students we work with are inherently expressive and My Life gives them a social platform to tell their stories."
Explaining that known entities are less scary to people, Morgan gave an example of how he used My Life to connect with his designated student on the first day. "For the student I am specifically working with, My Life gave me a couple of jokes and points of humor before I met him. This was really great because it gave me something to connect with that he was genuinely interested in right away."
Noting the benefit of using the My Life interface consistently within the classroom, Morgan cited a key benefit to students in the act of regularly and consistently adding content to their e-portfolios. "The part that sticks out to me is the repetition and being able to come back to the app and know what we're working on and can pick up from that point."
Attending his student's annual IEP presentation, Morgan noted a shift in how his student engaged and actively participated in the meeting. "The feedback we received from the school administrators and parents is that by using My Life's presentation tools, the group had the most productive and meaningful IEP meetings in the program's history."
Looking forward, Morgan notes that the ultimate goal for the students graduating from the Connections program is for them to become autonomous and advocate for themselves. "Whether they're buying a bus ticket or ordering a meal, we're trying to instill the know-how and the confidence in order to live their lives independently."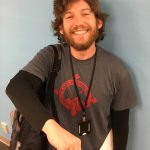 Morgan Flynn holds a bachelor's degree in Philosophy and Environmental Analysis from Pitzer College.