Goal Guide Saves Christmas and Other Cool Features
Each December, a bit of holiday magic blows down from the North Pole and brings Oliver the Christmas Elf to life. While all of our children are dreaming of sugarplum fairies and life-like wooden soldiers, Oliver cleverly hides his fluffy little body in a place that delights, yet challenges, the entire household come first light.
But, this year, the children have later bedtimes and are somewhat suspicious of Oliver and his nocturnal antics. Plus, to tell you the truth, Oliver has gotten lazy and a bit apathetic about playing all the reindeer games.
Oliver decided he needed a kick in his little green trousers.
So, Oliver logged into his Goal Guide account and set up a Category called "Elf on the Shelf". Within that category, he created a repeating goal called "Hide Oliver Every Night". Each night at 8:30pm, Oliver will receive a MMS reminder on his iPhone preparing him for his nightly jaunt.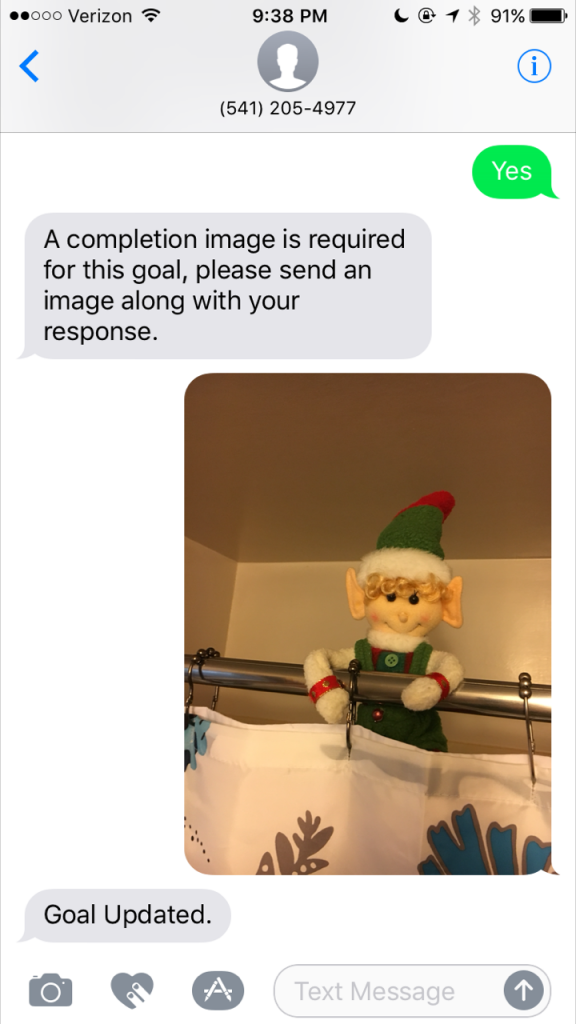 To ensure Oliver is held accountable for his actions, he is required to submit a photo (this one was taken by the cat) in order to complete the goal. This will help him remember where he has already hidden and also give him a baseline for the next holiday season.

In his off months, Oliver can use the Goal Guide MMS feature for activities like remembering to take his seasonal asthma medicine, completing his physical therapy exercises, and even meeting milestones for his IEP at North Pole High School.
We hope Oliver's success story inspires you to get creative with Goal Guide. Create your own account here.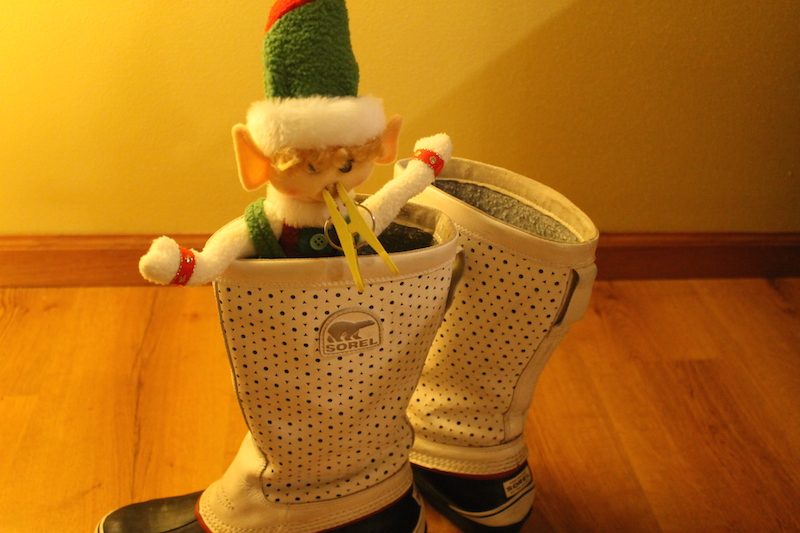 Julie Henning has been with Cognitopia since 2015. In that time, she has been involved in customer support, training, marketing, documentation, social media, and data collection. Some of her favorite projects have been mentoring our videographer intern, Nate, and weekly classroom testing and curriculum development for the many students in the 4J Connections Transition program. She works closely with Eugene-based SLLEA (Smart Living, Learning & Earning with Autism) to integrate Cognitopia's self-management tools into the organization and structure design input and support platform implementation. Professionally, Julie has over twenty years' experience working in engineering, technology, software development, and journalism; a path made possible with two degrees in Technical Communication: a BS from the Milwaukee School of Engineering and a MS from Colorado State University. A single mom of three high schoolers (grades 9, 10, and 11), Julie has introduced Cognitopia to terms such as "sick" and "yeet," while overseeing the office coffee consumption. In her free time, she enjoys playing recreational soccer, improv comedy, and traveling.